Software development
Software Development Internship
Locations: London, Cambridge, Manchester, Bucharest
Salary: £30,000 per annum (pro-rata)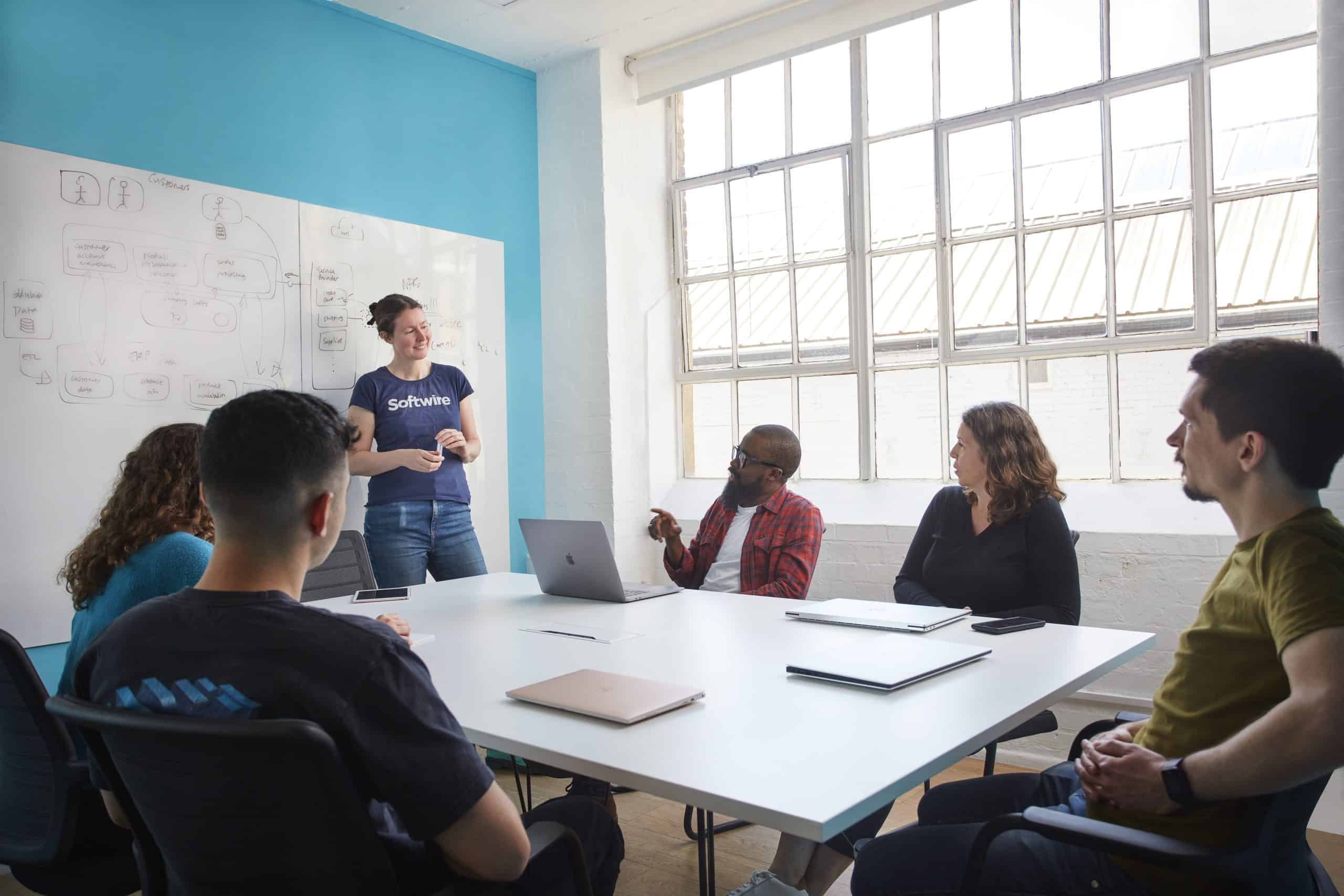 Get a feel for life as a professional digital engineer, building real-world software.
Under the guidance of experienced developers, our interns form a team to create a commercial-grade application. This might be for a client, or it might be a pro bono project or it might be addressing a need within Softwire.
Recent examples include a skills-tracker for Potential Plus UK, and a website for Pungo to monitor the mental wellbeing of elderly people.
Around half our interns take up a permanent role with us after their studies. We no longer accept direct applications for our graduate developer role so, for most people, an internship is the best route into this role.
Underpinning your success are our three key pillars: our people, our culture and the way we work. Read on to discover more about each.
Learn more and apply
Our summer internship programme (and beyond)
Our summer internships typically last 8-10 weeks.
Weeks 1-2: Induction
To get you up to speed ahead of the main development project, we spend two weeks on structured training, covering the essentials you'll need to thrive as part of the team.
Week 3 and onwards: Software development project
Following the training, you'll begin work on software for a real customer – either an external organisation or another part of Softwire.
You and your intern colleagues will be exposed to the full delivery lifecycle, guided by experienced software engineers. Projects typically include system design, development and testing, culminating in a demonstration of the completed product to the customer.
Your stepping stone to a permanent role at Softwire?
The intern programme enables us to get to know each other, and gives you a great insight into what a career with Softwire could be like. Around half our interns go on to take up permanent positions with us once they graduate. Find out more about our graduate developer role and where it could take you.
The people we are looking for
A passion for solving real-world challenges: First and foremost, you'll get a buzz from building things that make a difference to businesses, people and society. We also want to see passion for coding – any experience you have is a bonus
An articulate people-person: You'll be interacting with a wide variety of individuals: some deeply techy, some from complex business domains, and others with low digital literacy. You'll need to be comfortable understanding their needs and discussing potentially complicated technical ideas with all of them
A positive, can-do team player: You love pushing the team to greater heights by helping colleagues out wherever you can. You always look to improve yourself and others. Your default answer to a question is 'yes', and you make big problems seem small
The benefits package
Salary £30,000 per annum (pro rata) for summer internships
Great offices; free on-site gym and subsidised restaurant in London
Take part in our varied programme of social events and entertainment
Be part of a diverse, inclusive culture
Variety of Softwire career paths for successful interns
* We've been in the Best Companies To Work For list 10 years in a row.
Application process and start dates
We know how much effort you put into your application, so we always aim to get back to you within two working days at each stage. And if you get to the interviews, you can choose your own timeslots, using our online booking system.
All interviews are conducted remotely.
Summer internships begin in late June 2024 or early July and last 8-10 weeks.
You should apply for your internship as early as possible. Applications close on the 31st December and we allocate places to successful applicants on a first-come, first-served basis.
More about Softwire: What you'll be part of
Our mission is to solve our customers' business challenges using technology. This often demands creativity, tackling complex issues in intelligent ways, to help organisations streamline operations and ultimately better serve their customers and users.
We played an important role in the Moorfields Eye Hospital/DeepMind collaboration, which demonstrated how artificial intelligence could help doctors fast-track patients with serious eye diseases. We built the system that runs the BBC Live Events websites, sharing content from Glastonbury, the Reading and Leeds festivals, and the BBC Proms. We've been the long-term digital partner for David Lloyd Leisure, building its mobile app, booking system and numerous other capabilities. And this is just the tip of the iceberg. Find out what else we've been involved with.
Of course, there's more to Softwire than building software. We're working hard to nurture a diverse, inclusive and supportive culture, where people love what they do and feel inspired by working with some of the best minds in the business. We also have a generous budget for a varied programme of staff events and activities, with employees, not management, deciding how the money is spent.
Put all of this together, and you see why we've got such high retention rates, and why we've been in the Best Companies to Work For list, 10 years in a row.
Learn more about our core values, and discover some of our company culture initiatives on our .
Ready to be part of the journey? Apply for your internship today
Apply Now
Summer internships
Locations and pay: London, Cambridge and Manchester £30,000 per annum (pro-rata)
Dates and duration: June 2024 for 8-10 weeks. Note that we no longer offer 2-week internships over the winter and spring breaks
Who can apply: Anyone looking for permanent work starting in 2025 – there is no requirement to be an undergraduate. Students graduating in 2024, or in 2026 or later, should first email

[email protected]

to determine suitability
Closing date: Applications for internships in Summer 2024 must be submitted by 31st December 2023. Earlier applications are given priority.
Apply Now
Frequently Asked Questions