Software development
Softwire Coding Bootcamp
Locations: London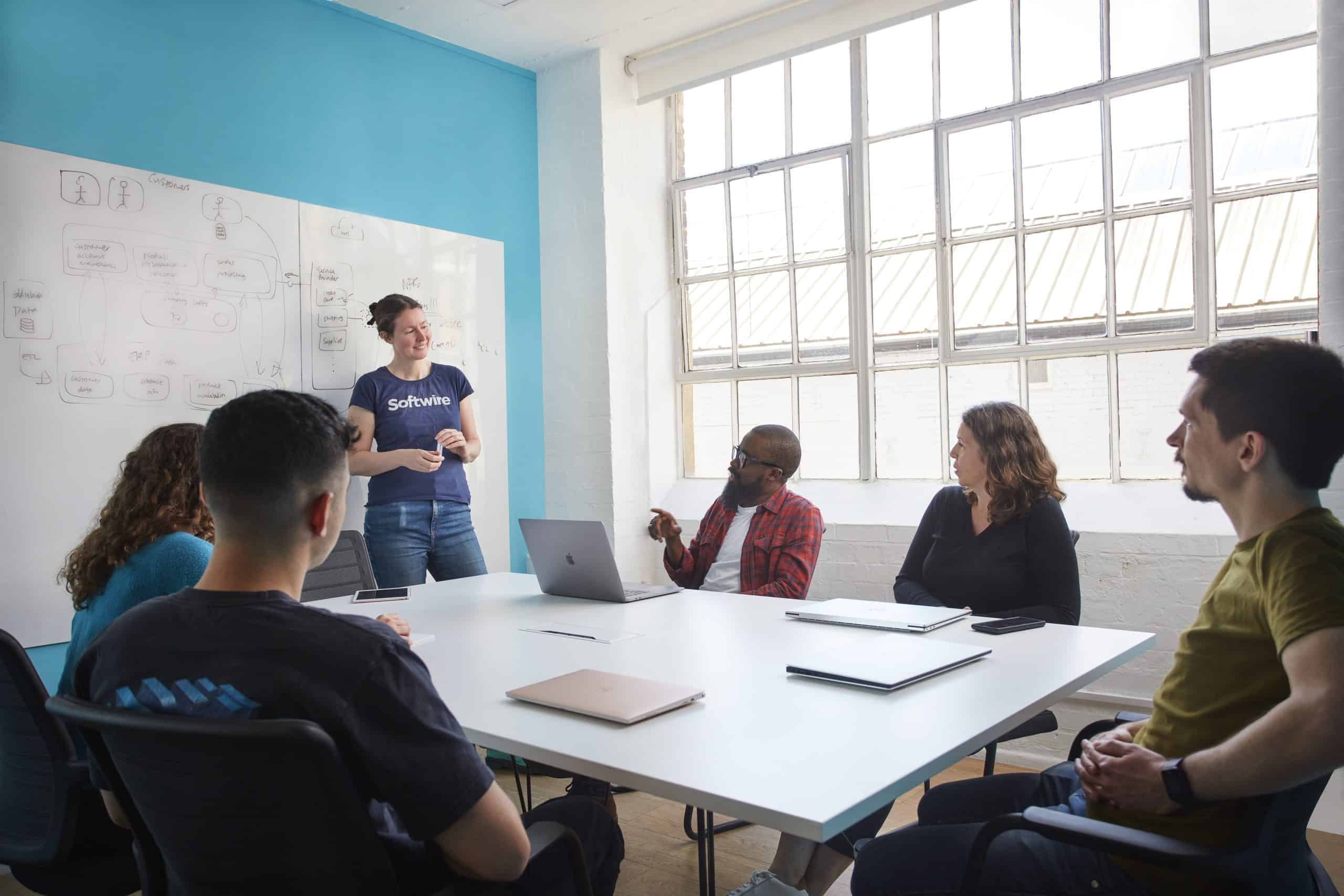 Our intensive 12-week training Bootcamp will help you expand your horizons, learn new skills, and feel supported entering a new industry even if you've never written a line of code!
By the end of the course, you'll be ready to apply for junior software developer roles, and we'll also provide help updating your CV and interview skills to get you ready for your first job in tech.
Syllabus
The bootcamp is broken into two sections – we start first with web development (using JavaScript, React, Typescript, HTML and CSS). We then move on to server-side development (C#, SQL and Docker). There are two group projects during the course which are a chance for you to practice and solidify what you have learnt, and find the links between all the different technologies.
Benefits
Training hours are 10 am-4 pm Monday to Friday, giving you time to do, if need be, the school run and conduct independent studying when it works for you
Individual access to really lovely trainers who are all software developers themselves
A community of other learners who are going through the programme with you
Who it's for
Softwire's coding Bootcamp is for people from any background who want to make the move into the tech sector.
For example, you might be…
On a career break, and looking to return to work in a way that fits around your life
Working in another sector and wanting a career change, perhaps for a better work-life balance or more challenging role
A recent grad looking for an entryway into your first career
You'll learn first-hand what it takes to build software that can change lives and improve the world we live in.
And you'll be in good company. Sofwire has more than 20 years experience in training people to become outstanding software engineers who have gone on to work for organisations such as Google DeepMind, Anthony Nolan, Square Enix, and END. Menswear.
Pricing
The 12 week training costs £4,500. However, if this cost would prevent you from applying please come and talk to us! We want the training to be available to as many people as possible, and we are sometimes able to arrange discounts or partial scholarships to help reduce the cost to you.
We also work with Knoma who offer loans to help you finance the course. Further information can be found here: https://www.knoma.io/
Please reach out if you have any questions or concerns by emailing [email protected]
Application process
Click below to apply.
We will then invite you to some online tests. You may find it useful to have a little bit of experience with JavaScript before beginning these tests, we suggest that you practice using free online resources such as Codecademy and CodeWars before you begin. If you have any questions about the programme, please email [email protected]
Apply now
Key facts-at-a-glance
Programme: 12-weeks full stack training Bootcamp

Location: Fully remote, but with the option of completing some days in our London office

Cost: £4,500. Support is available.
Start dates: Summer 2023 bootcamp starts on 3rd July. Winter 2023/24 bootcamp date is due to be confirmed.
Apply now